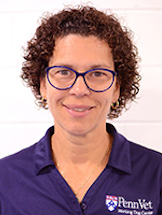 2021 Zaslow Distinguished Service Award Winner
Dr. Cynthia Otto
Dr. Otto is a tenured professor at the University of Pennsylvania, School of Veterinary Medicine in Philadelphia, PA. She served as an attending ACVECC clinician in the Penn Vet Emergency Service between 1991 and 2014. As a result of her deployment with PA-TF1 to 9/11, she initiated an AKC-CHF funded longitudinal study of search dogs that worked at 9/11 and created the Penn Vet Working Dog Center (www.PennVetWDC.org). She achieved board certification in Veterinary Sports Medicine and Rehabilitation (DACVMR-canine). She is the executive director of the Penn Vet Working Dog Center where she oversees the fitness and medical care of the detection dogs in the program, provides rehabilitation and conditioning for police and other working dogs and conducts vital research impacting detection dogs. She has published over 60 peer reviewed articles, numerous book chapters and is an internationally recognized speaker in both emergency medicine and working dog medicine. She was named Pennsylvania's 2002 "Veterinarian of the Year", received an Alumni Recognition Award in 2006 and the 2008 OSU Distinguished Alumnus Award from the Ohio State University. She received the Philadelphia Kennel Club's Dog's Best Friend Award in 2016 and AVMA's 2018 Bustad Companion Animal Veterinarian of the Year.
Please join the VECCS Board of Directors in a warm and whole-hearted congratulations to Dr. Otto.
Thank you for your years of dedication and service to VECCS!