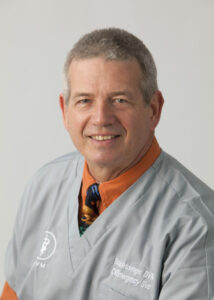 2022 Zaslow Distinguished Service Award Winner
Dr. Robert F. Messenger
Dr. Bob Messenger's family home, and current address, is Charlotte, NC.  His high school years and 4 years of pre-veterinary education were all spent in Ohio.  As a non-resident of Ohio in 1970, gaining admission to The Ohio State University College of Veterinary Medicine was a monumental struggle. And then, getting through the 4 difficult but wonderful years at OSU to graduation in 1974 was also very challenging.  There were no internships, no talk of residencies after graduation. Immediately following graduation, Dr. Messenger started basic training and his military obligation in the US Army Veterinary Corps, with the rank of captain.  After 3 years of inspecting DoD food both at both origin and destination, Dr. Messenger was honorably discharged (1977) from Fort Greeley, Alaska. He returned to Charlotte in 1979, with his pregnant wife Karen, and his Labrador Retriever, Buster.  Dr. Messenger was all ready to buy in to a small animal practice he'd worked for as an assistant all through college.  His career as a General Practitioner was set.
Except there was no longer a buy-in opportunity.  Even worse, there wasn't even an associate's position available.  In October 1979, there was only one practice in all of Charlotte, North Carolina that had an open position, and that was the 2 years old Charlotte Emergency Veterinary Clinic. The EVC was a stockholder owned, and board directed nights, weekends and holidays-only practice. Their starting pay: $13,000.  Dr. Messenger had a wife and family on the way; no place to live; he needed a job, so he took it…until something better came along.
We are told that all things happen for a reason.  As it happened, taking the ER job was a serendipitous decision. Nothing better ever came along. Dreams of a career vaccinating and deworming and chasing fleas all day, every day, quickly became a thing of the past. ER medicine was flat-out fun!
Twenty years later, Dr. Messenger was still with the same Emergency Veterinary Clinic. The practice had expanded and added daytime practices in ophthalmology, internal medicine, and surgery.  Dr. Messenger was Chief of Staff, and a member of VECCS since 1986. As a regular attendee of IVECCS, Dr. Messenger knew that 24 /7/365 ER/CC was the future of emergency and critical care. His EVC Board of Directors disagreed and stubbornly refused to expand to daytime emergency hours, so Dr. Messenger resigned, and joined the brand new Carolina Veterinary Specialists, as their first ER/CC veterinarian.  He recruited several more like-minded ER veterinarians, and in 2001, together with CVS, they opened the first 24/7/365 ER facility in Charlotte. Today, it is another 20+years later, and Dr. Messenger is still working with Carolina Veterinary Specialists, although now on a self-determined schedule.
At first, Dr. Messenger's love for ER medicine was a privately kept secret. He was frequently invited to quit the ER and join various general practices in the Charlotte area, but politely declined, because he was always 'called back' by the ER. The pay was bad, the inverted workstyle and lifestyle was hard on Dr. Messenger and his young family, but the satisfaction that came with helping the really sick and injured animals that came to the ER was hard to ignore. He began to feel 'isolated' from the veterinary community until he attended his first VECCS meeting, in 1986, at the AHAA meeting in New Orleans.  There, Dr. Messenger met many other ER veterinarians from Minnesota, Wisconsin, and California, and Florida and Texas and Canada all of whom took ER work to another level of science and passion. Said another way, 'he was no longer alone'. Dr. Messenger joined VECCS after that meeting, and attended as many VECCS CE conferences as his schedule would allow. In 2003, when the ACVIM met in Charlotte, Dr. Messenger volunteered to help staff the VECCS booth, and that is when he met Dr. Stamp. Three years later, Dr. Messenger asked Dr. Stamp about opportunities to do more for VECCS, as a means of showing gratitude to the Society for all the help he had received over the years in making him a better ER veterinarian.  Dr. Stamp encouraged Dr. Messenger to consider running for a seat on the VECCS Board of Directors. Thanks to some friendly persuasion from some other highly respected members of the VECCS board, in 2006, Dr. Messenger put his name into nomination for Treasurer. He won that election. Dr. Messenger served as VECCS' Treasurer for 3 Board cycles. He had so much fun as a member of the Board, he wanted to try for another office: President-elect, and 6 more years of Board service. He lost that election. Another 2 year Board cycle went by, and he tried again, again for President-elect, and this time he was successful. Dr. Messenger completed his second 6 year term on the VECCS Board in 2020. His last official task was to head up the Search Committee that eventually identified Dr. Chris Gray as the best candidate to become our CEO.
In spite of all of the hardship ER medicine creates for a family, Dr. Messenger and his bride Karen have been together for 45 years, and they are still living in Charlotte. They have 2 adult children, both of whom are university professors, another Labrador Retriever, a cat, and a 23 years old corn snake.
Please join the VECCS Board of Directors in a warm and whole-hearted congratulations to Dr. Messenger.
Thank you for your years of dedication and service to VECCS!